We wish to inform all participants that hotels of SSIEM in Jerusalem are now operating at FULL CAPACITY for the duration of the conference.
In case you have not yet secured your accommodation in Jerusalem or are facing challenges in booking hotels for the conference dates, we are here to assist you. Please do not hesitate to reach out to us at ssiem2023@ortra.com, and we will make every effort to provide personalized assistance.
When sending your email request, kindly provide us with the following complete details:
Hotel Category
Hotel Name
Check-in and Check-out Dates
Room Occupancy (Single for 1 person or Double for 2 people)
We value your participation and comfort, and our team is dedicated to ensuring your stay in Jerusalem is as convenient and pleasant as possible. 
——————————————————————————————————————————————————————————————————————-
A variety of hotels ranging in price are available for the SSIEM Symposium 2023. All hotels are located within the city of Jerusalem.
Special rates are offered for conference participants!
Hotels that have been secured for the meeting are listed below. It is recommended that accommodation is booked early for the meeting in order to secure your required housing arrangements.
For group accommodation requests of 10 people or more please send your requirements to Ortra Ltd using the contact details below.
For accommodation enquiries please email: ssiem2023@ortra.com or tel: + 972-3-6384444
To view hotel category option please see the chart below, followed by description and rates split by tabs.
Lady Stern | Dan Panorama | Dan Boutique | Leonardo | Ramada | Vert
Jerusalem Gold | Prima Park | Jerusalem Gardens | Ibis City Center | Ibis Style
Please note accommodation rates below do not include 17% VAT for Israeli participants.

Overseas participants don't pay VAT for Accommodation and Tourist services

Breakfast is included

All prices are in USD (American Dollar)
Hotel descriptions and rates - click on the tabs below to view hotels by category:
Symposium Hotels
Category A
Category B
Category C
Symposium Hotels
Ramada – Category B –

NO MORE AVAILABILITY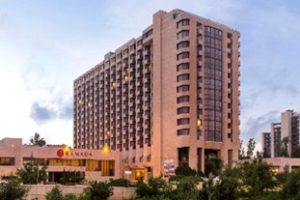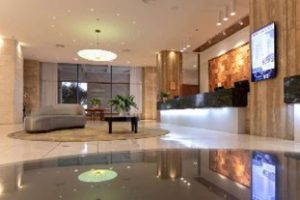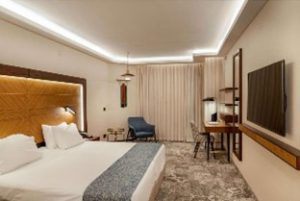 Zeev Vilnai 6, Jerusalem
Symposium's venue located at distance of 1km.
The Ramada Hotel by Wyndham is conveniently located near the entrance to the city of Jerusalem, nearby the International Convention Center (conference venue). The hotel offers thoughtful amenities and is designed to make you more comfortable during your stay. Free WiFi is available throughout the hotel.
The rooms are equipped with a flat-screen TV with cable channels and coffee/tea maker machine. Each room comes with a private bathroom equipped with a hairdryer.
Hotel facilities: accessible route to accessible parking, wheelchair accessible elevators, ATM, Bar and Café, Children's play and pool area, Fitness Center, indoor and outdoor pool, hotel restaurant, safe deposit box, sauna and spa center, tennis court.
Check-in: 15:00
Check-out: 11:00
Prices per night:
per single room- 240$
per double room- 260$
---
Vert – Category B –

NO MORE AVAILABILITY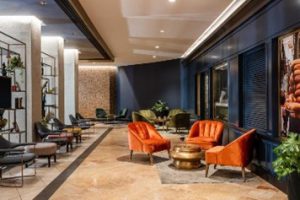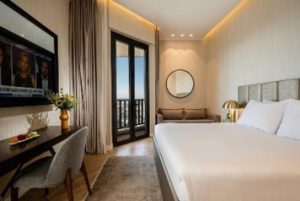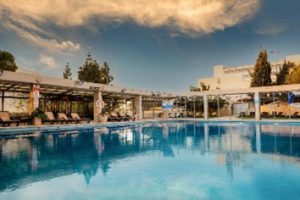 Number of rooms is limited.
The VERT Jerusalem Hotel is one of the most luxurious and renowned hotels in Jerusalem and has been uniquely designed to give you a luxurious hospitality experience. The hotel is very close to the Jerusalem International Convention Center (Conference Venue) and within walking distance to the city's top museums, the Knesset (Israeli Parliament), Supreme Court and the Central Station.
The hotel is located in the Givat Ram neighborhood in Jerusalem, overlooking the old and new city of Jerusalem. The hotel boasts cutting-edge design, professional service, impressive facilities, and a professional business-like atmosphere. The hotel is a convenient starting point to explore the city for walking tours: Nachlaot neighborhood, the "spanish orchard", Machne Yehuda market.
Symposium's venue located at distance of 700m.
VERT means "green" in French. The hotel is committed to go green by 2025. Sustainable procedures, such as implementing minimizing paper waste, paperless check-in processes, providing information digitally, recycling, increasing use of natural and biodegradable materials, reduction of plastic use, utilizing solar energy, and saving energy are already implemented.
The hotel's spacious rooms offer comfort, warmth, and intimacy.
Check-in time: 15:00, on Saturdays/holidays after the end of Shabbat
Check-out time: 11:00
Facilities at the hotel: 120 rooms and suites with views of the Old and New Cities, Semi-Olympic indoor pool for winter, business center with meeting rooms, luxurious spa (from age 18), gym, tennis court, "Yam" Lobby Restaurant (dairy restaurant), "Hamsa" Restaurant (international menu).
Price per night:
per single room- 315$
per double room- 330$
Category A
Category B
Category C
Accommodation Payment Terms
The total of your hotel reservation will be charged by Ortra Ltd. upon receipt of the registration form. 
Payments will be refunded according to the cancellation policy.
Accommodation Cancellation Policy & Insurance (FIT Reservations)
*** Insurance for accommodation cancellation can be purchased at US$ 75: Valid only up to 48 hours prior to arrival
For alterations of reservations or any other invoiced item an administrative charge of 30 USD will be charged. Alternative participants are readily accepted for an administrative fee of 30 USD.
Refund of payments made towards registration will be refunded if written notification reaches the Symposium Secretariat, Ortra Ltd. ssiem2023@ortra.com as follows:
Cancellation received within 14 days from the date of registration (unless registration was made during the 7 days prior to the Symposium) – Full refund, excluding 30 USD handling fees.
If cancellation received 15 days or more from the date of registration refund will be made as follows:
Until June 26, 2023 – Full refund with deduction of 30 USD handling fee
From June 27, 2023 – 50% refund
From July 27, 2023 – No refund.
*** For group

Accommodation Reservations and Cancellation Policy/Payment terms, please contact the Symposium Secretariat, Ortra Ltd.

 ssiem2023@ortra.com